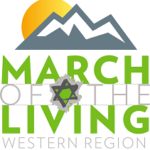 The March of the Living is an international, educational program that brings Jewish teens from all over the world to Poland on Yom Hashoah, Holocaust Memorial Day, to march from Auschwitz to Birkenau, and then to Israel to observe Yom Ha'zikaron, Israel Memorial Day, and Yom Ha'atzmaut, Israel Independence Day.
March of the Living 2022 Dates: Sunday, April 27th, 2022 – Sunday, May 8th, 2022
Want to be notified when registration for March of the Living 2022 opens? Complete this short form and we'll be in touch!